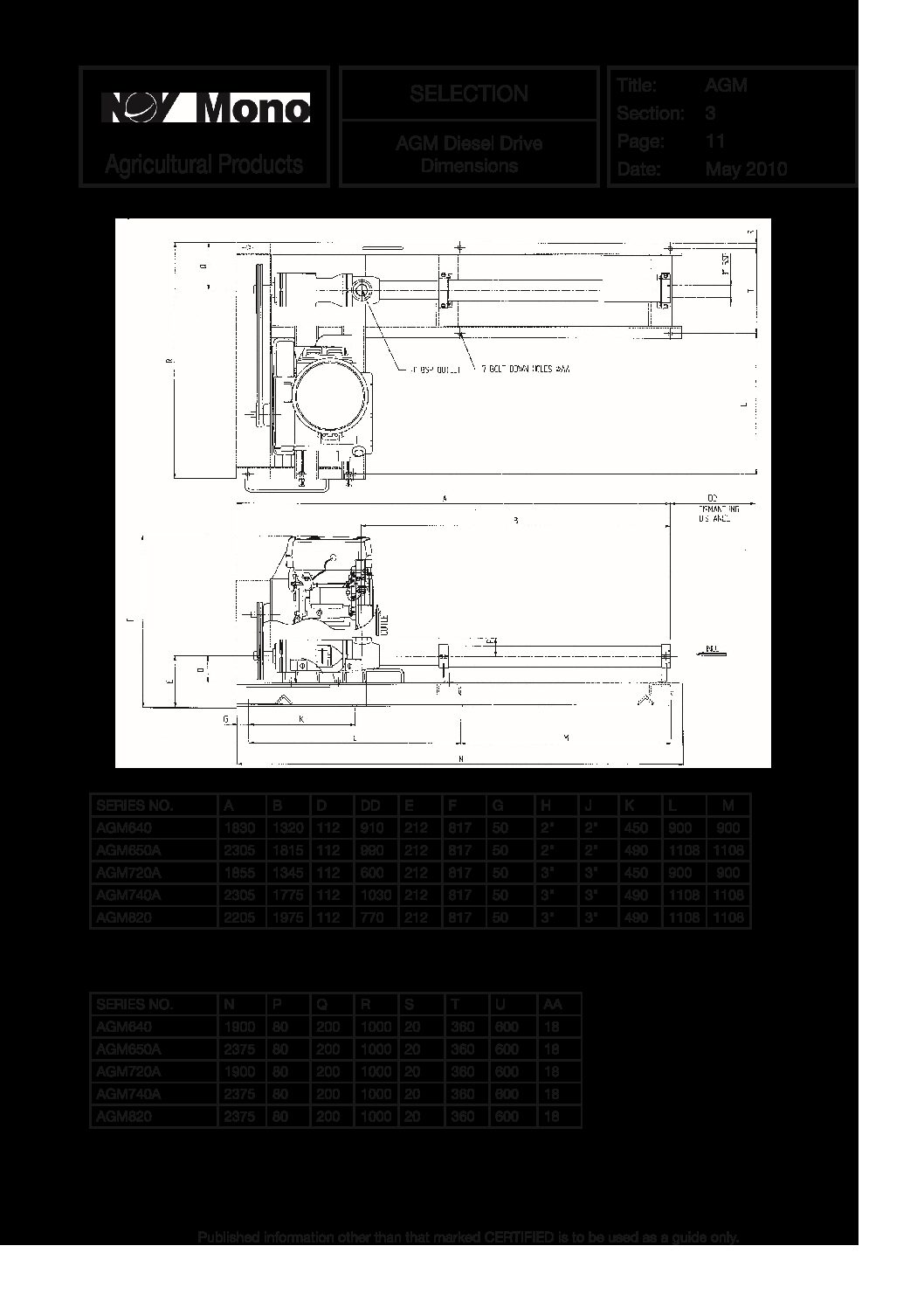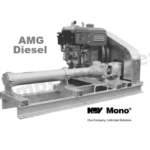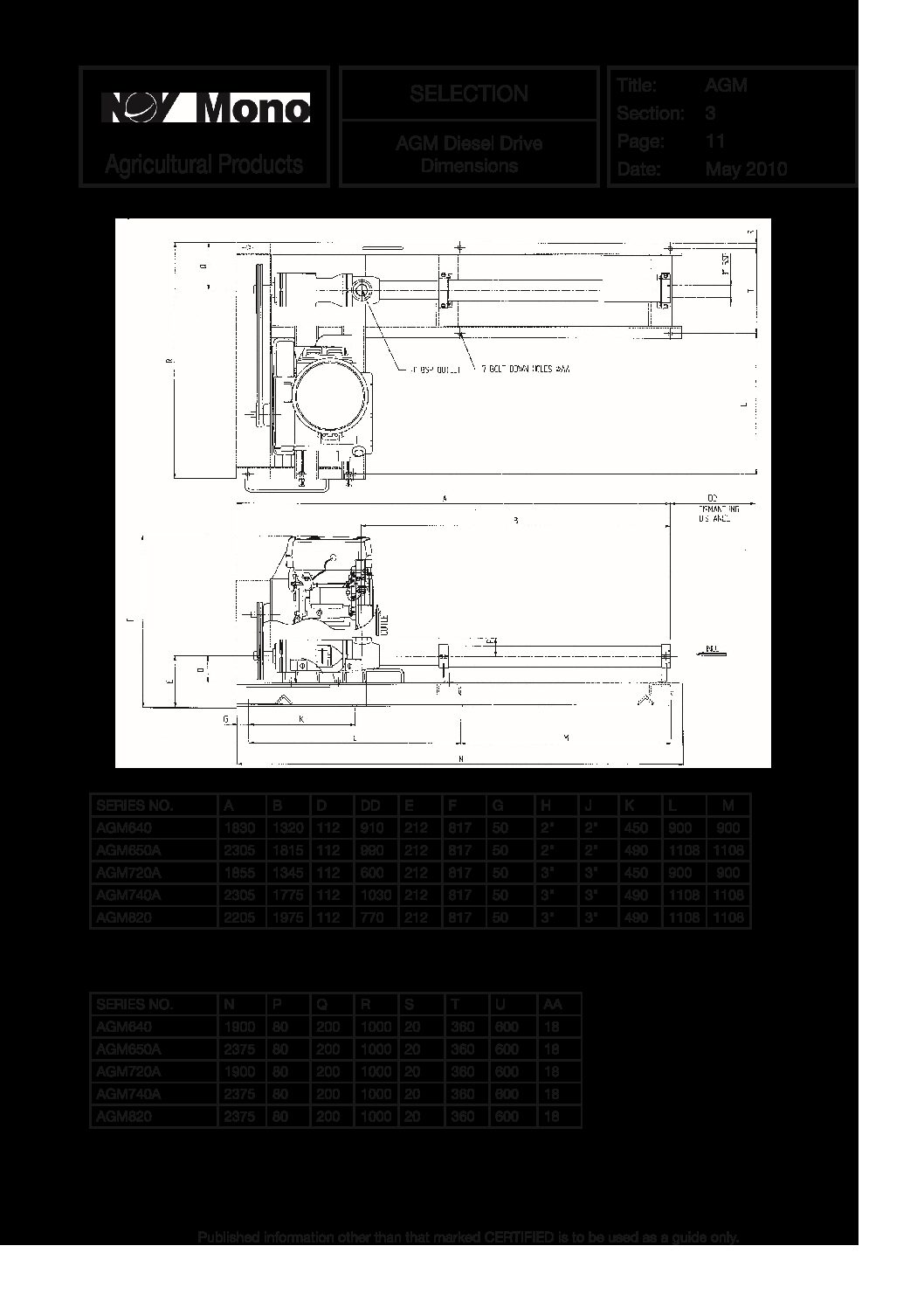 Mono AGM640 Long Haul Engine Driven Pumps Up To 120m Head And 2.5lps Kubota 7.0 hp And 9.5 hp Electric and Manual Start
Mono AGM640 Long Haul Engine Driven Pumps Up To 120m Head And 2.5lps Kubota 7.0 hp And 9.5 hp Electric and Manual Start
$14,430.00 – $16,930.00
$14,430.00 – $16,930.00
Mono Agricultural Surface Pump (AGM640) is a water transfer pump from rivers, dams or tanks to a desired location.
Mono electric unit consist of a pump and step down pulley to electric motor built on fabricated galvanised steel base
7.0 HP  : Pump performance:   2.0 lps @ 100 metres   (1580 gph)
9.5 HP : Pump performance:   2.5 lps @ 120 metres   (2000 gph)
Suction and discharge –  40mm (1 1/2″) Female BSP Internal Thread
Manufacturer's warranty:  2 years   Made in Australia
Description
Additional information
Downloads
Description
Mono Agricultural Surface Pump (AGM640) is a water transfer pump and has been designed to pump water from rivers, dams or tanks to a desired location.
Mono AGM Surface pumping system is designed and manufactured in Australia.
Mono Pumps AGM has been design tested and proven in the field over a wide range of water pumping applications.
7.0 HP  : Pump performance:   2.0 lps @ 100 metres   (1580 gph)     Kubota 7.0 hp   (800 rpm pump speed)
9.5 HP : Pump performance:   2.5 lps @ 120 metres   (2000 gph)    Kubota 9.5 hp  (1000rpm pump speed)
SPECIFICATIONS
Operating Temperature: -10 to 40 deg C
pH range 6 to 8.5
Hardness Range 2000 mg/L
Salt Concentration 500 ppm
Rotor Selection – Water Temperature
Standard rotor : 10 to 40 deg C
Mark 3 rotor : 40 to 70 deg C
Mechanical Specification
Suction –  40mm (1 1/2″) Female BSP Internal Thread
Outlet –  40mm (1 1/2″) Female BSP Internal Thread
Direction of Rotation
Anticlockwise when viewed from the motor or bearing housing end.
Materials (Excluding Motor)
Pump Barrel: 304 Stainless Steel
Stator: Natural rubber lining
Rotor: 316 stainless steel
Hard Chrome Plated
Flexishaft: Titanium
Mechanical seal: Carbon/Ceramic/Nitrile:
Mechanical seal holder: 304 Stainless Steel
Discharge Chamber: Cast Iron
Maximum Design Pump Pressure
AGM640 – 3000 kPa
Note: Pumps are capable of much higher pressure if flow of pump is reduced.
Running at over design pressure will reduce the life of the pump.
Manufacturer's warranty:  2 years   Made in Australia
Additional information
| | |
| --- | --- |
| Weight | 40 kg |
| Dimensions | 150 × 40 × 40 cm |
| Size | RK70 7HP Kubuto electric start with Mono AGM640 on base, RK70 7HP Kubuto manual start with Mono AGM640 on base, RK95 9.5HP Kutota electric start with Mono AGM640 on base, RK95 9.5HP Kutota manual start with Mono AGM640 on base |