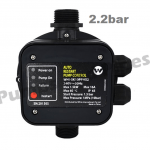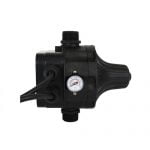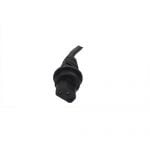 2.2bar Automatic Pump Controller – Press Control
2.2bar Automatic Pump Controller – Press Control
$170.50
$170.50
Auto restart pump controller
Plug and play with IEC lead and pressure gauge
Power 240V, 1 phase, 16A max, 1.5kW, 2.0hp, IP65,
Ports 25mm MI BSP. Cut in pressure 2.2bar.
Min pump pressure 350kPa.
Manufacturer's warranty:   12 months
Description
Additional information
Downloads
Description
The controller monitors both the pressure and the flow. It controls the operation of the pump automatically. Because of its design, there is no need for a separate pressure (expansion) tank, nor is there any need to adjust start and stop pressures as per traditional pressure switches.
The unit will protect the pump should the water supply fail (due to blockage in the pipe or tank running dry) and will automatically restart normal operation once water is restored.
Features and Benefits
Starts and stops the pump automatically when the tap is open or closed.
Maintains a constant pressure from the pump during operation resulting in a reliable water supply.
Automatically stops the pump in the situation of no flow (due to inlet pump blockage) and will automatically resume normal operation once the blockage is removed.
Automatically restarts the pump in the event of power failure. This gives the homeowner peace of mind that the unit will continue to operate even if they are away for a long period of time.
The controller eliminates pressure fluctuations at flows as low as 1L/min.
Manufacturer's warranty:   12 months
Additional information
| | |
| --- | --- |
| Weight | 4 kg |
| Dimensions | 20 × 20 × 20 cm |
| Brand | Bianco Pumpz |