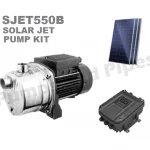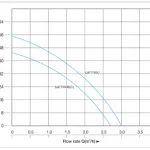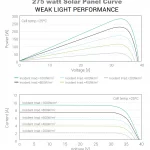 Solar Jet DC Pump Kit SJET550B
Solar Jet DC Pump Kit SJET550B
$1,980.00
$1,980.00
Solar Jet Pump Kits include:
Pump with performance 800 lph @  30 meters
550watt 48V Solar Jet pump
Solar Pump Controller
3 x 275 watt Solar Panels
MC4 connectors and cable
Description
Additional information
Downloads
Description
DC SJET Solar JET Pumps are fitted with a permanent magnet which enables the efficient use of energy from solar panels.
The Jet pump has a peripheral impeller containing numerous radial blades in its edge,suitable for pumping clean water and chemically non aggressive liquid.They have relatively simple construction and are very economical, reliable and safe. It's widely used for household and domestic application such as water supply from wells, pools and water tank for pressure boosting, garden irrigation, washing down equipment etc.
Characteristic
1. Permanent magnet, brush less motor,saving energy and offering maximum efficiency.
2. NSK bearing with alloy mechanical seal,offering the longer working life.
3. MPPT function offers higher utilization rate of solar energy.
4. Water proof and leak proof based on double water seal.
5. Controller maximum's operating temperature:60℃
6. Featured functions: Soft start protection, High/Low voltage protection,
Over current/load protection.
Working conditions
Pump performance: duty  800lph @ 30meters
Power Supply, Solar panel and storage batteries
DC48 Solar pumps: 48 voltage
Water temperature: ≤35℃, PH value 6.5 ~ 8.0
Suction lift up to 8 m.
3 x 275 watt Solar Panels
Polycrystalline Module Panel
CELL – Hyperion Nano Structure Rebuilding (NSR) Technology
CUT – Latest diamond cell cutting technology
COLOUR – Consistent dark blue cell colouration
CONSISTENSY – Hyperion manufactured in Phono Solar's own 2.5GW cell facility
Dimensions – 1640mm length, 992mm width, 35mm height
18kg weight per panel
3.2mm toughened glass
Anodized aluminium alloy frame
4mm2 (IEC), 3 meters cable
Additional information
| | |
| --- | --- |
| Weight | 100 kg |
| Dimensions | 120 × 90 × 50 cm |