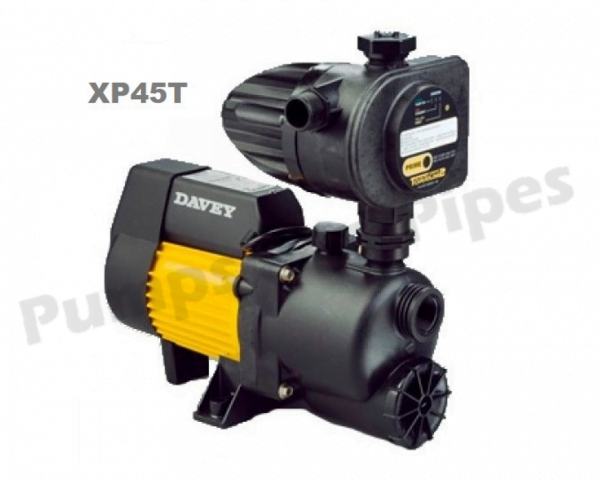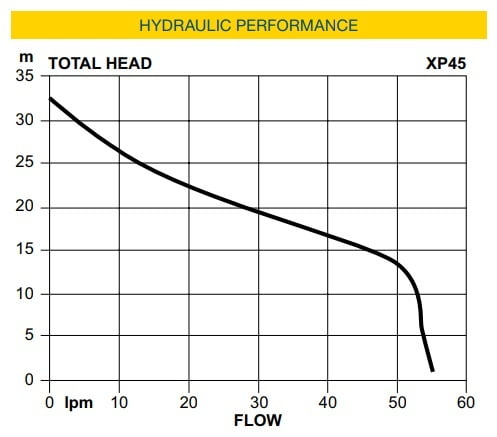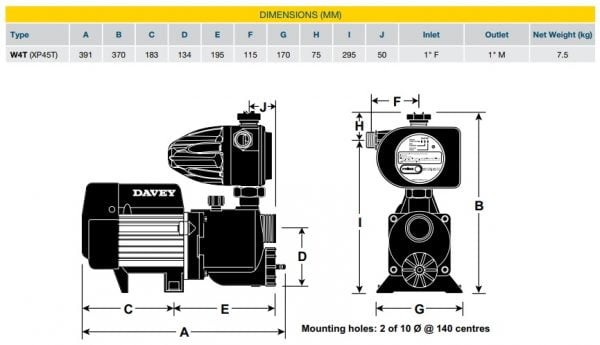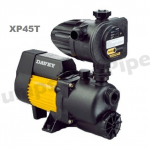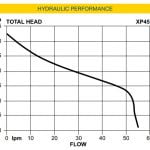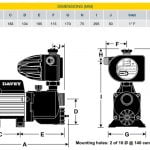 Davey XP45T with Torrium2 Home Pressure System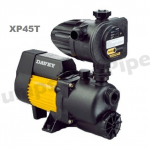 Davey XP45T with Torrium2 Home Pressure System
The Weekender Series W4T Davey (XP) with Torrium 2
Home Pressure System
Model Number: W4T (XP45T)
Robust and compact, single stage, jet assisted centrifugal pump with Torrium®2 constant flow control and loss of prime device for automatic water pressure.
Designed for small to medium size, single storey homes.
45lpm capacity
240 voltage supply
0.65kW Input power (P1)
0.45kW Output power (P2)
TORRIUM2 – 240 Voltage, Single Phase, 50Hz
Due to Davey's Internet Policy this product cannot be purchased online, please contact us in store for sizing and installation advice
Description
Additional information
Downloads
Description
APPLICATIONS
Ideal for pumping clean, non-volatile liquids without fibres or solids in such applications as:
• Household water supply
• Irrigation
• Water transfer
• Washing systems
The Weekender Series home pressure system consists of an XP pump fitted with a Torrium®2 controller. The Torrium®2 is supplied connected electrically to the XP pump motor for:
• Easy non-tradesmen installation and assembly
• Positive safety under varied weather conditions
The combination of the high pressures supplied by the jet assisted XP pump and constant flow control provided by the Torrium®2 enables you to enjoy the benefits of a strong comfortable shower from a pump that does not cycle plus the reliability of adaptive technology.
Compliance with the strict requirements of ISO 9001.2000 quality standards ensures consistency of quality of
the system.
PUMP
Made from corrosion resistant engineering plastic materials
ensuring:-
• Long service life
• Low maintenance
• Reliable water quality
Single stage jet assisted centrifugal pump with closed vane impeller for:-
• Compact size
• High pressure performance
High quality, low-drag mechanical shaft seal for long life and reliable starting.
MOTOR
The Davey manufactured TEFC motor has an IP55 enclosure providing:-
• Excellent corrosion resistance
• High levels of resistance to dust and rain
All XP pump motors are class F insulation rating and have higher than normal ambient temperature ratings of 50ºC,
providing for longer life, improved tolerance to voltage variations and peace of mind, even on the hottest days.
All XP pump motors are single phase permanently split capacitor design for:-
• Reliable starting even in low voltage circumstances
• Superior frequent starting performance
Single phase motors are protected against both high operating temperatures and high current by a built in, automatically resetting thermal overload.
Double contact C3-HTG sealed bearings for quieter running and longer life.
Corrosion resistant feet on motor shell, include three point bolt-down facility.
Standard models are 220/240 volt, 50Hz, single phase. XP models in 60Hz 110/115 volt and 220/230 volt single phase available on request.
Additional information
| | |
| --- | --- |
| Weight | 7.5 kg |
| Dimensions | 39.1 × 17.0 × 37 cm |
| Brand | Davey |