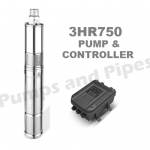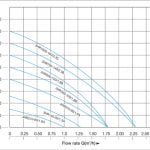 3″ Solar Pump 200 gph @ 95 meters Bore Pump
3″ Solar Pump 200 gph @ 95 meters Bore Pump
$1,480.00
$1,480.00
3″ Solar Submersible Helical rotor bore pump
Pump performance: Duty 200 gph @ 95 meters
Material of pump:  AISI 316 stainless steel
DC submersible motor voltage, 750 watt
Includes Pump, Controller, Float switch and heat shrink
Manufacturer's warranty:  2 years
Description
Additional information
Downloads
Description
3HR750-140/2.3B | 3″ Solar Helical Rotor Pump
DC Solar submersible pumps are fitted with a permanent magnet motor which enables the efficient use of solar power supply.
The pump system offers the water supply for tank filling and water transfer.
Pump performance: flow rate 200 gph @ 300 feet ( 15 lpm @ 95 meters)
Shut off head  140 meters
Flow rate 8 lpm @ 120 meters
Flow rate 15 lpm @ 95 meters
Flow rate 20 lpm @ 80 meters          Performance during middle of day in full sunlight
Material of pump:  AISI 316 stainless steel
4 x 275Watt solar panels recommended
3″ outside diameter dimension
Three phase FLC 2.3 Amp DC motor
DC controller has float switch or pressure switch terminals
DC controller LED displays for Amps, RPM, Voltage, Watts
DC controller must be protected from weather IP56 rated
Pump connection:  20mm FI BSP
Features:
1. Permanent magnet, brush less motor,saving energy and offering maximum efficiency.
2. NSK bearing with alloy mechanical seal,offering the longer working life.
3. MPPT function offers higher utilization rate of solar energy.
4. Controller maximum's operating temperature:60℃
5. Controller protection functions:
Soft start protection, High/Low voltage protection, Over current/load protection.
Manufacturer's warranty:  2 years
Additional information
| | |
| --- | --- |
| Weight | 30 kg |
| Dimensions | 80 × 40 × 40 cm |