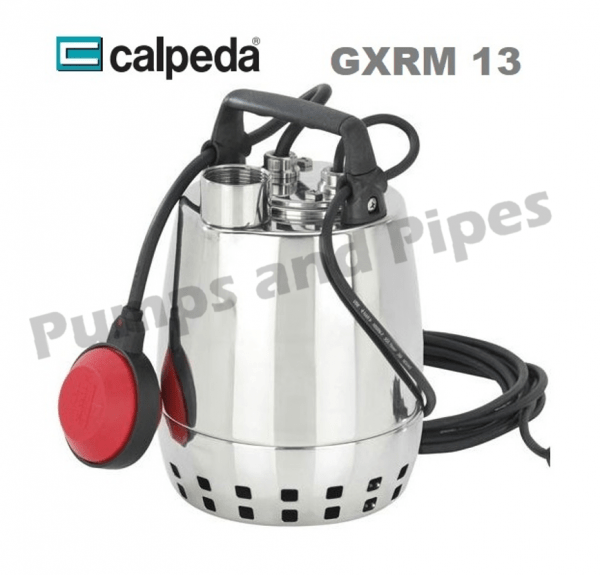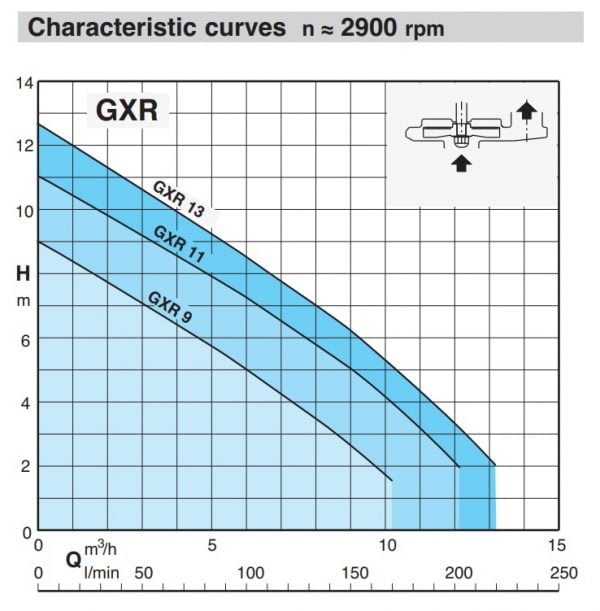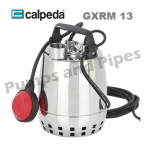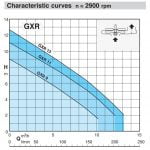 GXRM 13 Submersible Drainage Pump – Automatic Sump Pump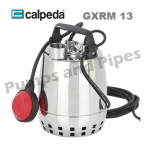 GXRM 13 Submersible Drainage Pump – Automatic Sump Pump
$790.00
$790.00
Single-impeller submersible pumps in AISI304 stainless steel
Pump performance:  100 lpm @ 8.5 meters
Pump performance:  150 lpm @ 6.0 meters
Pump performance:  200 lpm @ 3.0 meters
0.45kW  1Ø 240 Voltage with float switch
Incorporated capacitor and thermal overload
10m length power supply cable
Manufacturer's warranty:  2 years  Made in Italy
Description
Additional information
Downloads
Description
Calpeda GXR13 single-impeller submersible sump pumps are manufactured from AISI304 stainless steel, with vertical delivery port.
The motor is cooled by the pumped water passing between the motor jacket and the external jacket.
Sealing is via a Double shaft seal with oil chamber.
Pump performance:  zero flow @ 12.5 meters (shut off head)
Pump performance:  100 lpm @ 8.5 meters
Pump performance:  150 lpm @ 6.0 meters
Pump performance:  200 lpm @ 3.0 meters

Suitable for applications including:
– Clean water containing solids up to 10 mm grain size.
– Draining rooms or or emptying tanks.
– Extraction of water from ponds, streams or pits and for rainwater collection
Maximum Liquid temperature up to 50° C.
Maximum immersion depth: 5 m.
Minimum water level with float: 70 mm
Minimum water level manual operation: 15 mm
Continuous operation
MOTOR
2-pole induction motor, 50 Hz (n ≈ 2900 rpm).
0.45kW FLC 4.5A single-phase 240 V,
with float switch and thermal protector.
Incorporated capacitor.
Insulation class F.
Protection IP X8 (for continuous immersion)
Double impregnation humidity-proof dry winding.
Constructed in accordance with: EN 60034-1; EN 60335-1, EN 60335-2-41.
Manufacturer's warranty:  2 years  Made in Italy
Additional information
| | |
| --- | --- |
| Weight | 7.2 kg |
| Dimensions | 20 × 20 × 30 cm |
| Brand | Calpeda |