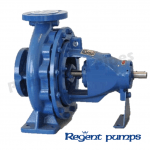 Regent Bare Shaft Pump 150-125-315
Regent Bare Shaft Pump 150-125-315
Regent Pump assemble and test in Australia
ISO 150-125/315 bare shaft
Engine or electric motor driven
Applications are water supply, fire pumps, air conditioning and irrigation
Description
Regent Pumps are assembled and tested in Melbourne.
Sold throughout Australia and Pacific for many applications like water transfer, building water supply, air conditioning, fire pumps and irrigation systems.
Suction ; 150mm E flanged , Discharge : 125mm E flanged ISO standard.
Impeller diameter 315mm , multi-speed curve available for engine driven.