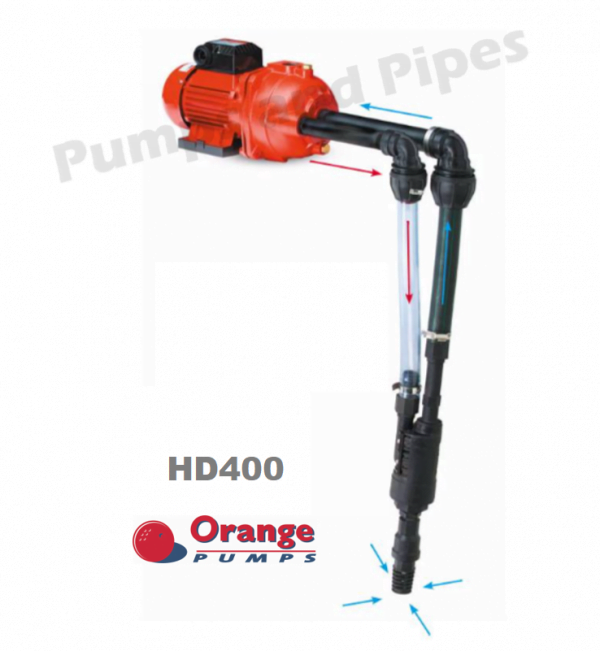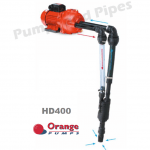 Orange Pumps HD400 + HD33 Deep Well System & Injector kit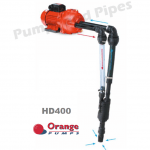 Orange Pumps HD400 + HD33 Deep Well System & Injector kit
$730.00
$730.00
Orange HD400 Deep Well System
Pump Performance:  15 meters  deep, 23 lpm @ 250 kPa
Motor : 0.75kW  1.0 HP 240 volt single phase FLC 5 amps
Pump connections: inlet 25mm FI BSP outlet 25mm FI BSP
Suction Pipes: 40mm suction 32mm driver pipe (pipes not included)
Manufacturer's warranty:  2 years 
Description
Additional information
Downloads
Description
The HD400 jet pump can be used in deep well applications where the suction depth is greater than 9 metres. With no moving parts or electricity down the bore and lower capital costs than submersible bore pumps this is a reliable, simple and cost effective water supply solution.
The plastic moulded injector down the bore can tolerate salt and iron concentrations in the water which has damaging effects on submersible bore motors and pumps.
The Deep well injector kits come complete with all the pipe fittings, hose clamps, foot valves that are required. An offset flange is available for installations where the suction pipes are placed horizontal before they go down vertically into the bore.
Pump performance:  
Depth to water    Outlet pressure    Flow rate
10 meters              250 kPa                 33 lpm
15 meters              250 kPa                 23 lpm
20 meters             250 kPa                 14 lpm
25 meters             150 kPa                  14 lpm 
How it works
Water is pumped down the smaller supply pipe into the injector where the jet creates a vacuum causing water to be sucked up from the bore. Water is then drawn into the venturi where water velocity is converted to pressure which lifts the water to the capabilities of the pump.
Deep Well Injector
Foot valve 40mm (1½ ") pipe fittings and hose clamps
Injector, ball valve and threaded nipples
Over bore elbow
Features
Strong Cast Iron construction
Plug & Play electrical lead
Precision moulded Injector
Plumbing fittings supplied
Manufacturer's warranty:   2 years
Additional information
| | |
| --- | --- |
| Weight | 25 kg |
| Dimensions | 45 × 30 × 40 cm |
| Brand | Orange |