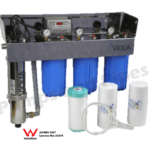 House Water Filter With UV Light 3 x 10inch Big Blue Filters and VIQUA UV Lamp
House Water Filter With UV Light 3 x 10inch Big Blue Filters and VIQUA UV Lamp
$1,720.00
$1,720.00
Viqua VH410 Ultraviolet Water Filter system
Complete assembled system for internal or exterior use
Triple 10 inch Big Blue Filters
UV Rated to 130 lpm Flow @ 16mj dose
Suitable for Town or Country Water Supplies for Families
WaterMark Certificate of Conformity
Manufacturer's warranty: 5 years Made in Canada Assembled in Australia
Description
Additional information
Downloads
Description
Viqua VH410 Ultraviolet Water Filter system. Carries the WaterMark Certificate of Conformity
Made in Canada by the worlds largest UV manufacturer
Complete assembled and tested system
Unbeatable value and Performance
Weatherproof Construction for Exterior Use
Heavy Duty 304 Stainless Steel UV Bracket, Cover, Bolts and Washers
Triple 10 inch Heavy Duty WaterMark Approved Alpine Pure Big Blue / 100% Polypropylene Housings and heads
NSF Approved materials
1 x 20 micron and 1 x 1 micron, Alpine Pure Gradient Density pre-filters, Watermarked approved
1 x Granulated Activated Carbon final cartridge, Watermarked approved
Filter Housing Pressure Gauges
UV Rated to 130 LPM Flow @ 16mj dose
High Output Lamp, Low 45 Watt Lamp Power usage
Suitable for Town or Country Water Supplies for 1-2 Bathroom Homes
Triple 10 inch Big Blue housings it will produce up to 60 litres per minute flow with an appropriate pump
Manufacturer's warranty: 5 years
Do Not allow Filter Housing to Freeze.
Always Use a Pressure Limiting Valve if Pressure over 90 psi.
Always Use a Water Hammer Arrestor if Water Hammer is Present.
Do Not Overtighten.
Ultraviolet rays with wavelengths shorter than 300 nm are extremely effective in killing microorganisms.
The most effective sterilizing range for UV is within the C bandwidth (UVC).
This range is called the germicidal bandwidth.
UVC has been used in hospitals for decades to sterilize surgical instruments, water, and the air in operating rooms.
Many food and drug companies use germicidal lamps to disinfect various types of products and their containers.
UV disinfection is a purely physical process. Micro-organisms such as bacteria & viruses that are exposed to the effective UV-C radiation are inactivated within seconds.
It does not add anything to the water, such as undesirable colour, odour, taste or flavour, nor does it generate harmful by products.
It is fast, efficient, effective, economical and environmentally friendly.
Additional information
| | |
| --- | --- |
| Weight | 25 kg |
| Dimensions | 60 × 25 × 80 cm |