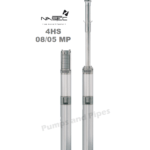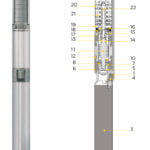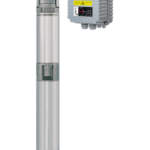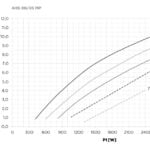 Nastec Solar 4HS 08/05 MP Variable Speed Submersible Solar Pump – Call Us For A Quote
Nastec Solar 4HS 08/05 MP Variable Speed Submersible Solar Pump – Call Us For A Quote
4HS MultiPower pumps can be powered by AC or DC with a wide range of operating voltage
Flow rate 100 lpm (1,300 gph) @ 40 meters    Solar Panels  6 x 330W
Flow rate 120 lpm (1,580 gph) @ 45 meters    Solar Panels  8 x 330W
Flow rate 140 lpm (1,820 gph) @ 45 meters    Solar Panels  10 x 330W

Can be run on DC current (solar panel or batteries) or AC (mains power or generator)
Pump protection includes low and high voltage, high and low pressure, run dry protection
Pump Outside Diameter: 99mm
Type of Pump: Centrifugal with impellers
Material of constructions: AISI304 stainless steel
Pricing includes Pump-motor-drive, CM Monitor, Pressure Transducer, Resin Epoxy joint
Manufacturer's warranty:  12 months 
Manufactured in Italy by Nastec
Description
Additional information
Downloads
Description
4HS MultiPower pumps can be powered by AC or DC with a wide range of operating voltage (90 – 265 VAC / 90 – 400 VDC).
This means that 4HS MP pumps can be connected to solar panels, batteries, wind turbine and a diesel generator.
A special software algorithm allows for adjusting the hydraulic performance to each source and to the available power while maximising the amount of water pumped.
Flow rate 100 lpm (1,300 gph) @ 40 meters    Solar Panels  6 x 330W
Flow rate 120 lpm (1,580 gph) @ 45 meters    Solar Panels  8 x 330W
Flow rate 140 lpm (1,820 gph) @ 45 meters    Solar Panels  10 x 330W

Submersible pump has a power cable and senor cable existing the motor. A 2 core sensor cable is installed in the bore with the 2C +E power cable in the bore.  We supply both cables if required. A pressure transducer/transmitter is supplied which must be installed on the discharge line to allow the CM Monitor to read the outlet pressure.
Can be run on DC current (solar panel or batteries) or AC (mains power or generator)
Pump protection includes low and high voltage, high and low pressure, run dry protection
Pump Outside Diameter: 99mm
Type of Pump: Centrifugal with impellers
Material of constructions: AISI304 stainless steel
Maximum frequency:  110hz
Pricing includes Pump-motor-drive, CM Monitor, Pressure Transducer, Resin Epoxy joint
Manufacturer's warranty:  12 months 
Manufactured in Italy by Nastec
Additional information
| | |
| --- | --- |
| Weight | 35 kg |
| Dimensions | 120 × 30 × 40 cm |
| Brand | Nastec |