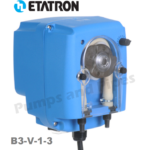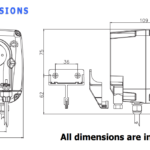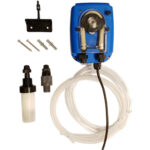 Peristaltic Dosing Pump B3-V-1-3 Flow rate 1 litre per hour Max Pressure 3.0 Bar Etatron
Peristaltic Dosing Pump B3-V-1-3 Flow rate 1 litre per hour Max Pressure 3.0 Bar Etatron
The B Series are a range of peristaltic dosing pumps fixed and variable flow rates.
With maximum flow rates of up to 12 L/H and pressures of up to 3 Bar, the B Series is perfect for swimming pools and washing systems (particularly the B-FCD model with its built in CD control).
Description
Additional information
Downloads
Description
ePeristaltic dosing pumps B3-V are equipped with new electronic control circuits with switching power running regulating motor rotation with more precision, reliability and regularity. Switching powers have had a larger use in the industrial field because of their vantages:
Flow Rate: 1 l/hr
Maximum Pressure: 3 Bar
Power Supply: 90-260v standard; available with optional removable power cable
Tubing: Available in Santoprene®, Silicone, Norprene® or Tygon
Flow Rate Adjustment: 10 – 100%
Level Control: Optional (level probe not supplied)
Lower weight ( up to 50%).
Lower heating with a consequential longer pump life.
They have a performance reaching easily 80-90% versus 30-60% of linears.
Power output feeding pump is not affected by unforeseen alterations of tension net, whereas in these cases it would be necessary supply an oversized
transformer in the linear powers, increasing energetic leakages.
Operation cicle ( performance) is improved and it is more fluent and homogeneous. Better performances are reached with a lower power consumption.
New peristaltic pumps can work with a power tension between 90 and 260 VAC.
Additional information
| | |
| --- | --- |
| Weight | 1 kg |
| Dimensions | 15 × 12 × 10 cm |
| Size | 12l/hr, 1l/hr, 4l/hr |